If you grow a kitchen garden, there is not much that can compare with the joy of harvesting the first new potatoes of the year and being able to enjoy them freshly cooked with cold butter half an hour later. So of course you have to be able to do that in the mini-kitchen garden.
The very early black Soloist has been germinating for a month - bright but cool (10-15 °), which gives short, powerful sprouts that do not break easily during laying.
There has been plastic over the bed for the last few weeks to raise the soil temperature, which for potatoes should preferably be above 8 ° on average during the day - otherwise the development stops and the yield is less.
The temperature in the ground this morning is 12 °, and there is no prospect of it falling significantly in the near future.
Make 3 grooves in the bed with about 50 cm in between. A little chicken manure is sprinkled on the bottom, as potatoes as one of the only things can well tolerate fresh manure. If you do not have manure, you can simply give the bed compost. After this, the gutters are given a jug of water, so that no extra supply is needed, at least for the first month.
The potato tubers are laid at a depth of 5-10 cm (with the sprouts facing up) at a distance of 25 cm in a row. The ground is torn over the gutters, and then it's just about waiting for something green to appear.
Meanwhile, while all potato development takes place underground, the bed can just as well be used to produce something above the soil surface.
Grooves are made in the two spaces between the potato rows, and here are seen some fast-growing radishes, which can be harvested before the potato tops sometime in May cover the entire bed. It was seen quite thin (a few cm between the seeds in the cut), so the radishes have the best conditions to be able to develop quickly.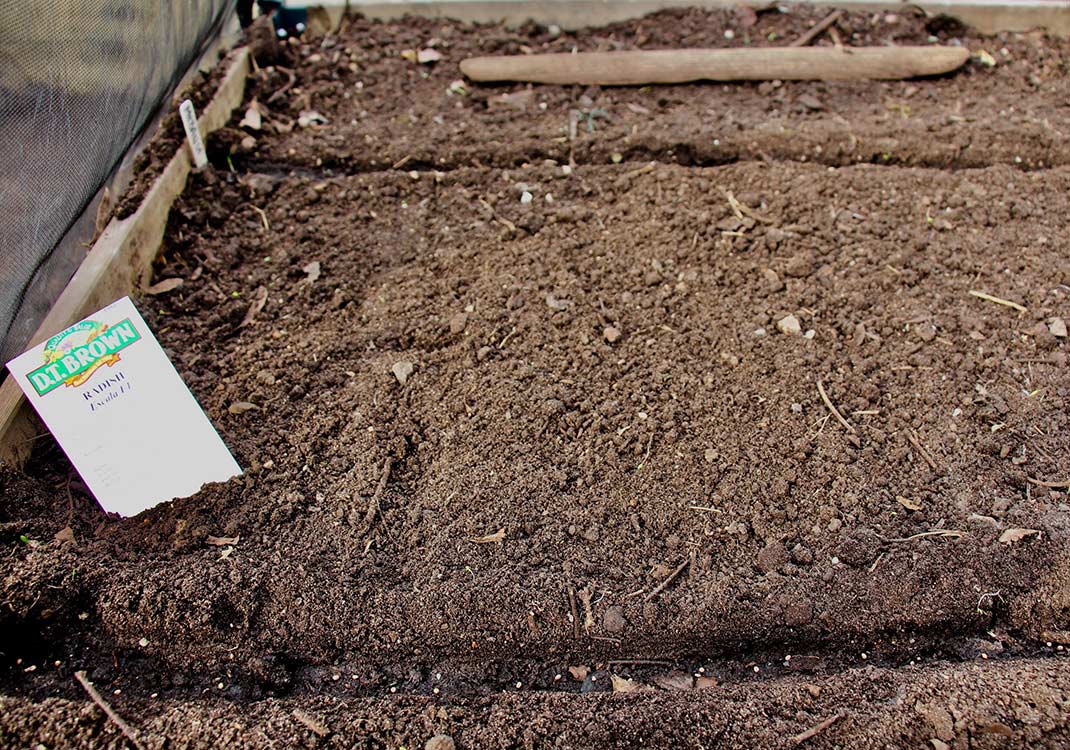 Written by Peter Norris, April 10, 2018