Den Lille Havekalender for Selvforsynere
22. februar 2020 af Peter Norris

About 4-5 years ago, my garden calendar was posted on the website of Praktisk Økologi og Haveselskabet - and it has gradually needed an update. Some of the varieties mentioned no longer exist while new ones have been added, I grow several things a little differently today than then, and then I have also since gained new experiences and become a little wiser. This new edition is based on what I myself grow in the kitchen garden here in 2020, and therefore there are a number of crops (eg palm cabbage, fennel and eggplant) which are not mentioned at all: we do not grow them😉
The main emphasis is on pre-cultivation. The vast majority of crops are pre-cultivated i.a. to get an earlier harvest or to have seedlings ready when a bed has become vacant after harvest of a previous crop. Here, experiences with crop development time and harvest time are important in order to be able to plan when things should be sown. The sowing times in the calendar are therefore determined by, for example, which crop the planting plants should follow - and thus combinations of crops in a bed can have an effect on when the individual crops are to be sown and planted. The crops that are sown directly do not take up much space in the calendar - you only sow when the space is available and the weather is right for it.
However, time indications must be taken with a pinch of salt
The sowing times can easily fluctuate a few weeks to both sides. The weather and the choice of varieties can play a role in when the individual crops are to be sown and planted out. For example, if one can see that the first crop in a bed is very delayed due to cool weather, the sowing of its successor should be delayed a bit. Sometimes the planting can drag out for so long that you have to repot the plants into larger pots. And finally, the weather can behave, for example, as here in the "winter" 2019-20, where you can take the chance and just throw yourself into trying out what is possible.
January
Medio:
Chili sauce. Ordinary mild snack peppers can wait up to 14 days.
Ultimo:
Stone fruit gets lime. Plums, cherries as well as peaches and apricots
Horse bean beds get wood ash
Garlic bed gets a sprinkle of dung and wood ash
Pea was sown inside the root trainers. The variety is Meteor
---
February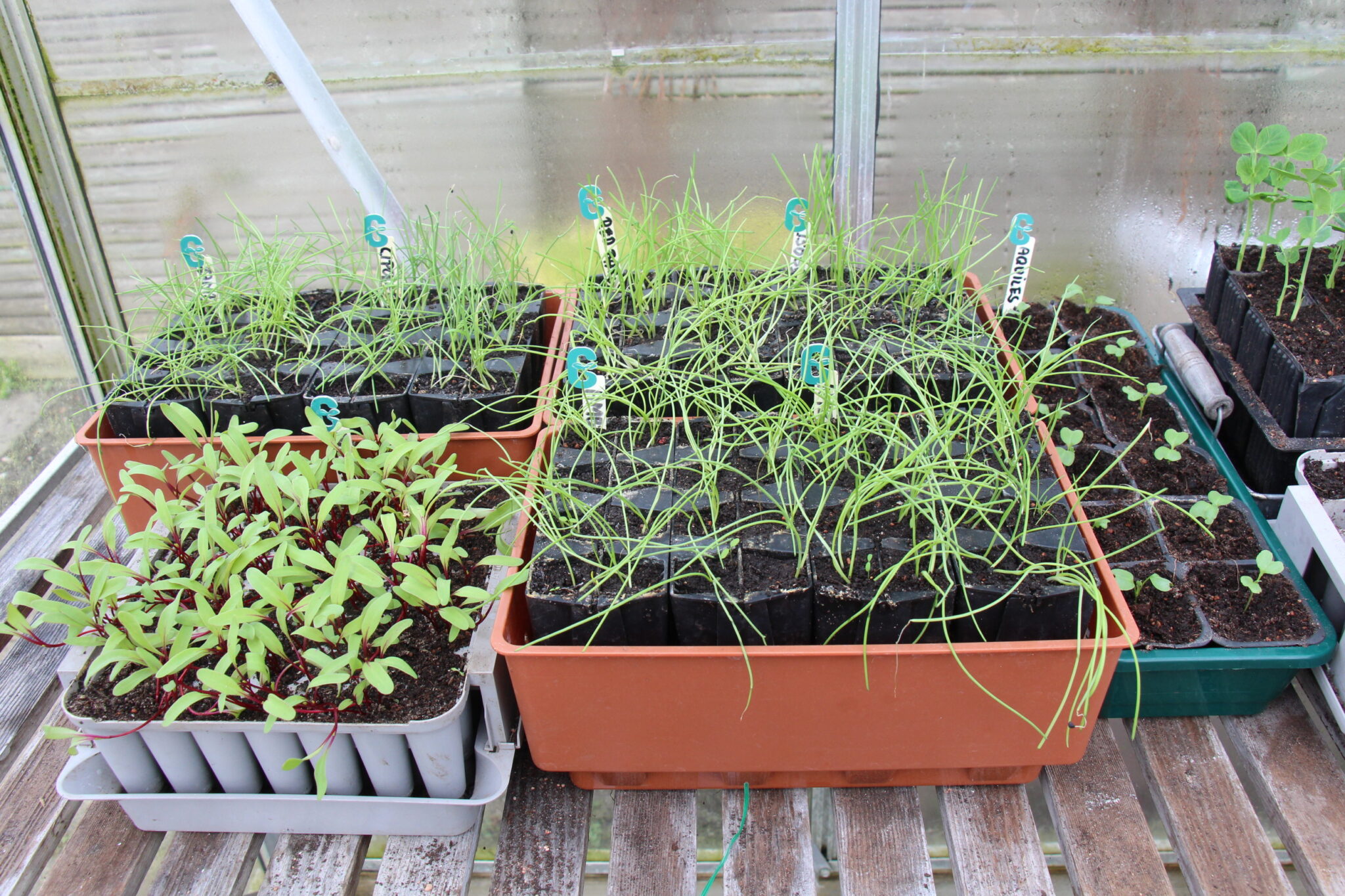 Onions in rootmaster and beets in plug box - Photo: Peter Norris
Primo:
Early tomatoes were sown. Bloody Butcher, planted under plastic or in a manure bench in April.
Rapini was sown in a plug box, transplanted into small pots and planted in a manure bench in late March / early April
Salad sauce in plug box. Sort Little Gem and Winter Gem. Planted in manure bench in March.
Spring onions are sown in the plug box, planted out in late March
Medio:
Onions sown in rootmaster, 3-4 seeds per cell
Potatoes germinate
Radishes were sown in the plug box, transplanted under plastic in early March
Spinach was sown in a plug box, planted close to the open field, harvested as baby spinach
Ultimo:
Early beets were sown. Black Boltardy in rootmaster with 4-5 seeds per cell. Dilute to a maximum of 4 sprouts per cell, transplanted as a lump in late March under plastic.
Nets are laid over garlic and overwintering onions to protect against the onion mining fly
Radishes are sown in greenhouses
---
March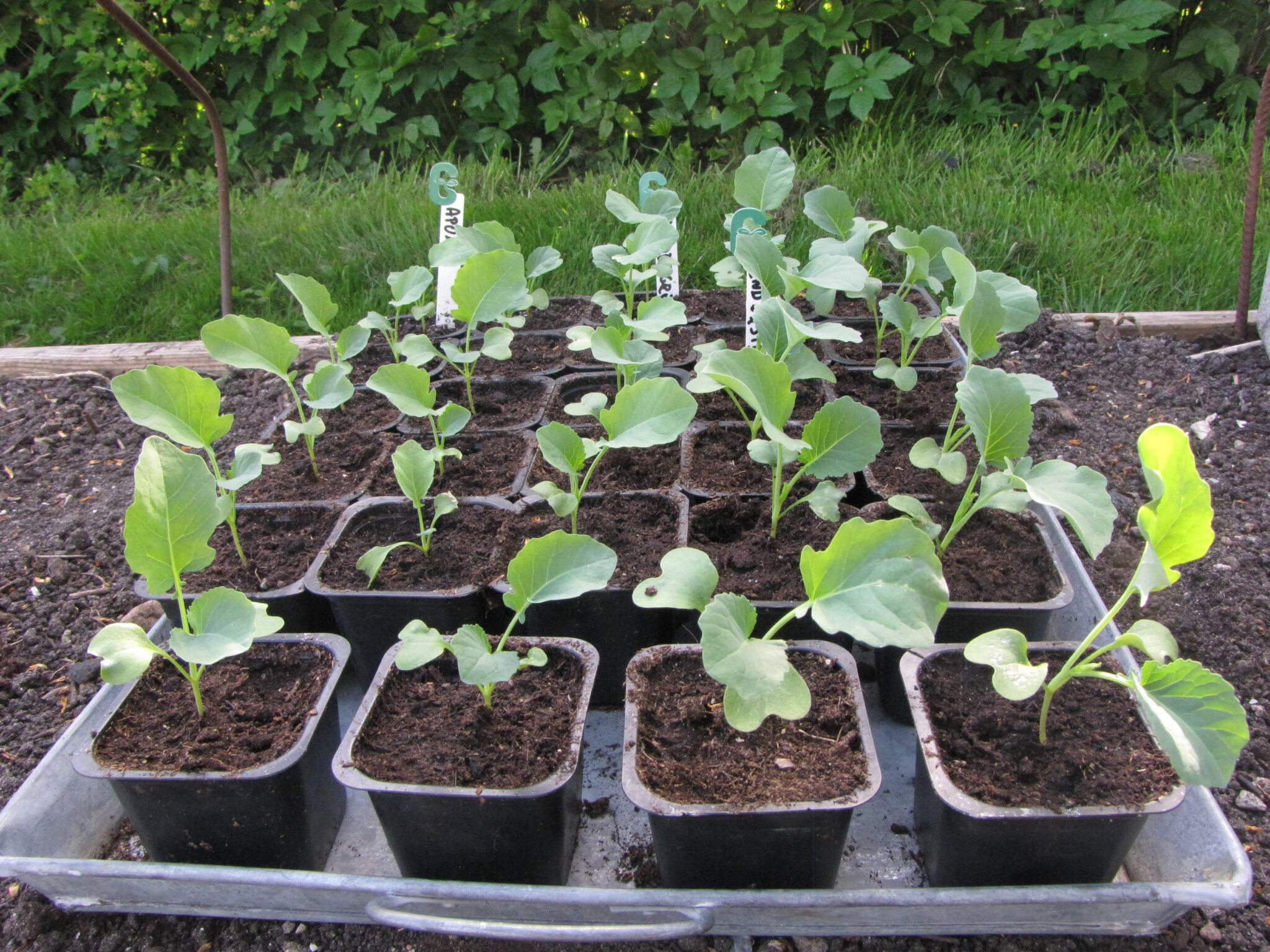 Pre-cultivated broccolini - Photo: Peter Norris
Primo:
Blueberries are pruned
Broccolini are sown in early March, then they have the appropriate size for planting in mid-April. Do not stand too hot.
Raspberries get leaf compost
Early potato beds are covered with plastic
Potato beds get wood ash - a handful per m2
Overwintering bulbs get fertilizer solution.
Overwintering spinach gets fertilizer solution as soon as a little new growth appears
Parsley and dill were sown inside trays (not plug box)
Next batch of salad was sown
Summer cauliflower was sown in pots. Black Boris, Orkney and Mayflower
Tomatoes were sown to the greenhouse on March 8th
Peas were sown in the root trainer. Black Twinkle, planted in early April under plastic
Medio:
Celery leaves were sown. Seeds are bathed in 50 ° hot water for 25 minutes to avoid infecting the celery leaf spot. Sown in the surface of the plug box, almost does not need to be covered. Repot twice
Leeks are sown in boxes with compost at the bottom
Autumn raspberries are cut down
Ultimo:
Asparagus bed gets lime
Onion beds get wooden ashes - a handful per m2
Next batch of peas was sown directly. Sort Twinkle
---
April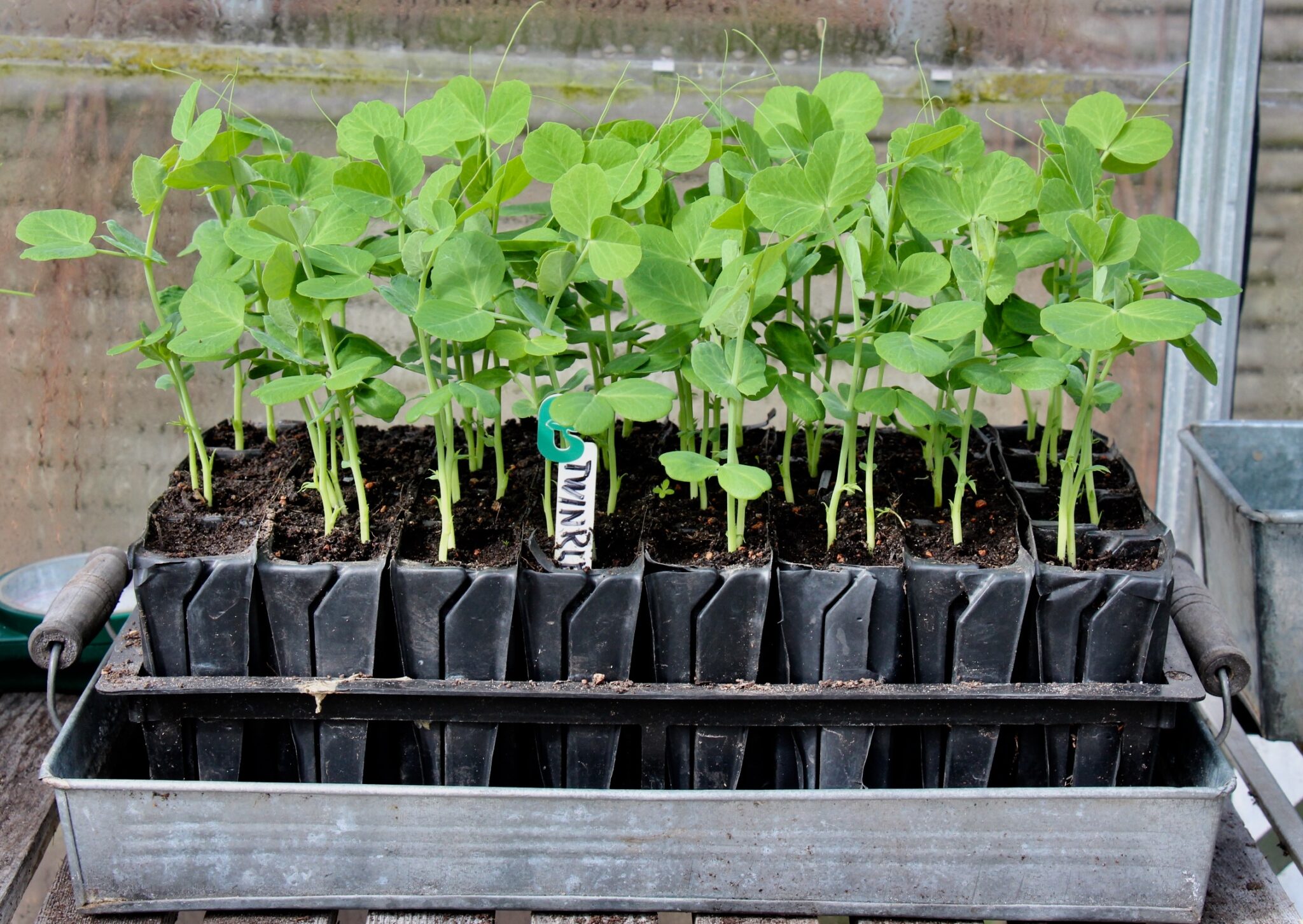 Pea Twinkle in Root Trainers - Photo: Peter Norris
Primo:
Basil was sown in tray for planting in greenhouse in May
Future garlic beds are watered with garlic powder when the soil temperature is 15-18 °. At the same time, next year's onion and leek beds will receive the same treatment. Prevents attacks by white thread
Onion beds get stone flour
Horseradish is replanted
Beetroot was sown, May is planted between rows with the earliest corn
Outdoor tomatoes were sown
Peas were sown. 1 double pull Hurst Green Shaft, at the same time as the 1st team Twinkle is planted out
Medio:
Cucumbers were sown for planting in manure pits
Early beans were sown for planting in manure pits after harvesting overwintering spinach. Sort Speedy
Corn sauce. Earliest corn was sown April 15 in root trainers. Black Early Xtra, Earlibird or Swift. Planted after harvesting spinach in the first half of May, possibly under plastic / non-woven fabric
The next double row of peas was sown
Parsley root was sown directly. The seeds are soaked in water overnight to promote germination
Brussels sprouts were sown. The varieties Brenden and Trafalgar in small trays, are later pricked out in individual pots. Planted June after harvest of overwintering cauliflower
Withered leaves are removed on strawberries
Ultimo:
Zucchini were sown in pots. Moved to a greenhouse after emergence, planted outdoors in late May, possibly under non-woven fabric
Beetroot was sown in the plug box for planting between the next batch of corn
Lavender is cut down to 7-10 cm. The clippings are ground and used as ground cover.
---
May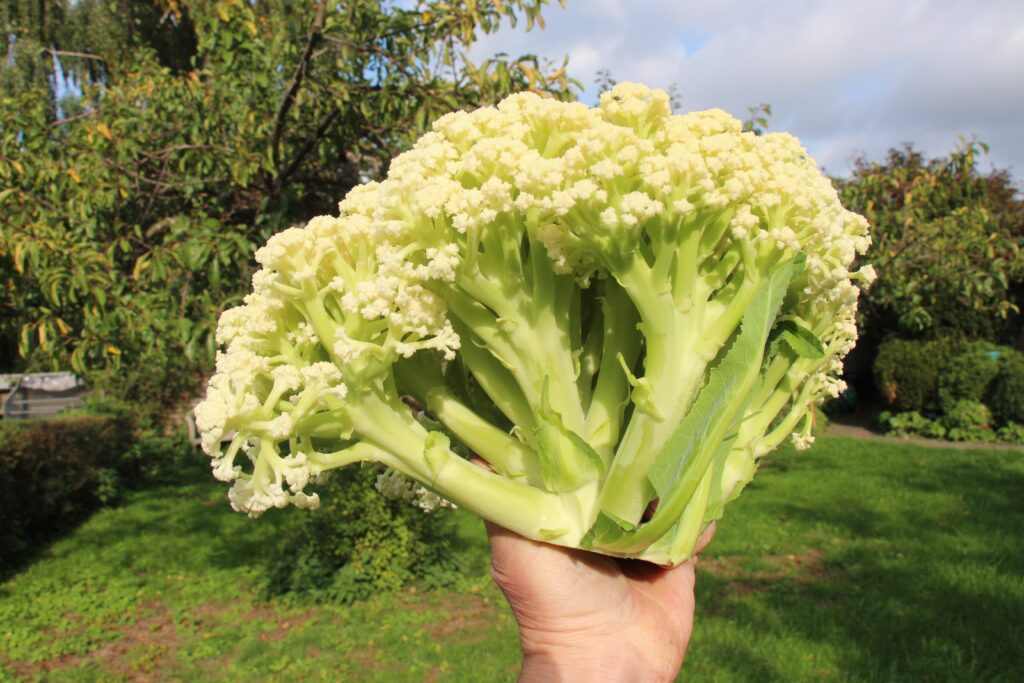 Chinese Sweet Sprouting cauliflower - Photo: Peter Norris
Primo:
Autumn raspberries are thinned. Thin to about 10 per meter when they are 30-40 cm high
Grams High Pea sown directly, 2 double pulls
Glue sheets are hung in plum wood to catch plum leaf wasps
Second batch of corn was sown. Black Swift. Planted after overwintered cauliflower
Next batch of broccoli was sown. Black Blue Wind is planted in manure bench in June after overwintering broccoli Aquiles
Red cabbage and savoy cabbage were sown. Red Flare, January King, Jade. Planted in June after overwintering broccolini / broccoli
Medio:
Garlic beds are grounded - if the soil is not well moistened and the leaves have not started to turn yellow
Next batch of lettuce sown, transplanted after overwintered scallion
Earliest batches of bar beans were sown in root trainers. Black Fasold
Ultimo:
Chinese Sweet Sprouting cauliflower was sown, transplanted after early peas
Winter carrots were sown, from late May to mid-June. Black Chantenay Red Cored
3rd batch of corn was sown about 3 weeks after 2nd batch. Black Rising Sun, planted after harvest of early potatoes
Cabbage Minicole sauce. 15 pieces are planted in a manure pile after the oldest strawberries have been cleared
Purple Sprouting broccoli sauce. Planted after harvest of shallots
---
June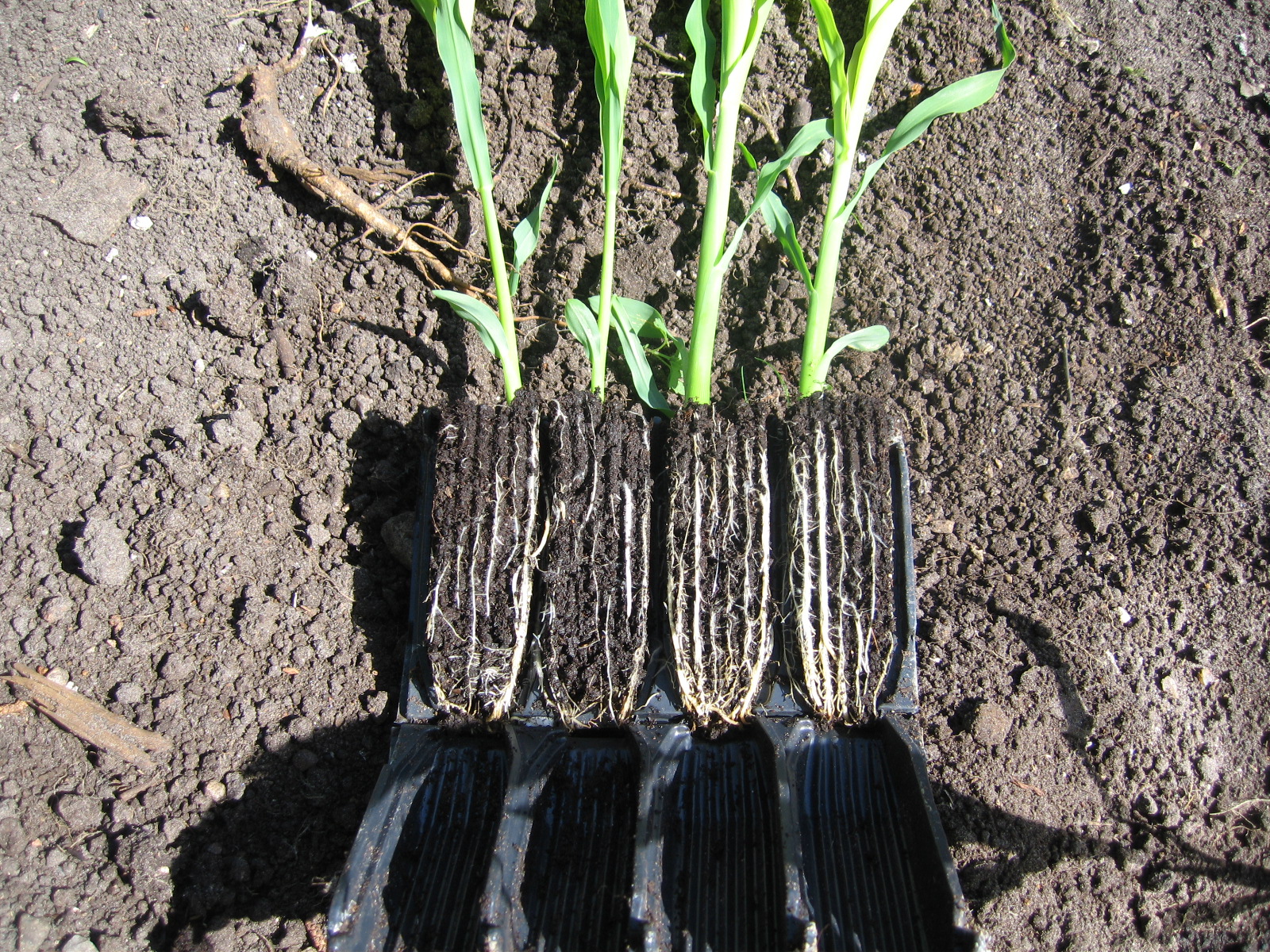 Corn pre-cultivated in root trainers - Photo: Peter Norris
Primo:
Late cauliflower was sown. Nuage and Autumn Giant were sown for harvest Nov-Dec. Planted in late July
Broccoli sauce. Waltham, Green Magic and Green Sprouting were sown in plugs, transplanted after strawberries in July
Figs are pinched. New shoots with figs pinched after 4-5 leaves
Overwintering shallots get a rest period after harvest.
45 pieces are put in the fridge for a month. Put July in bench after prayers
Medio:
Overwintering cauliflower was sown. Winter 3, Winter Aalsmeer and Winter Medaillon. 4 pieces of each. Planted in August after peas
Beetroot was sown in the plug box. Alto and Golden Burpees, planted after potato in July
Last batch of corn was sown about 10-15. June in root trainers. Planted in July after garlic and between 2nd year strawberries. Sort Damaun
Rod beans were sown. Black Cobra sown about 15.6. Plant on the 1st layer of corn in the outer rows, 1 piece per corn plant
Ultimo:
Autumn cauliflower sauce. Black Romanesco and Boris. Planted in August after summer cauliflower
Rod beans were sown about 29.6. Sort Cobra. Planted after potatoes
---
July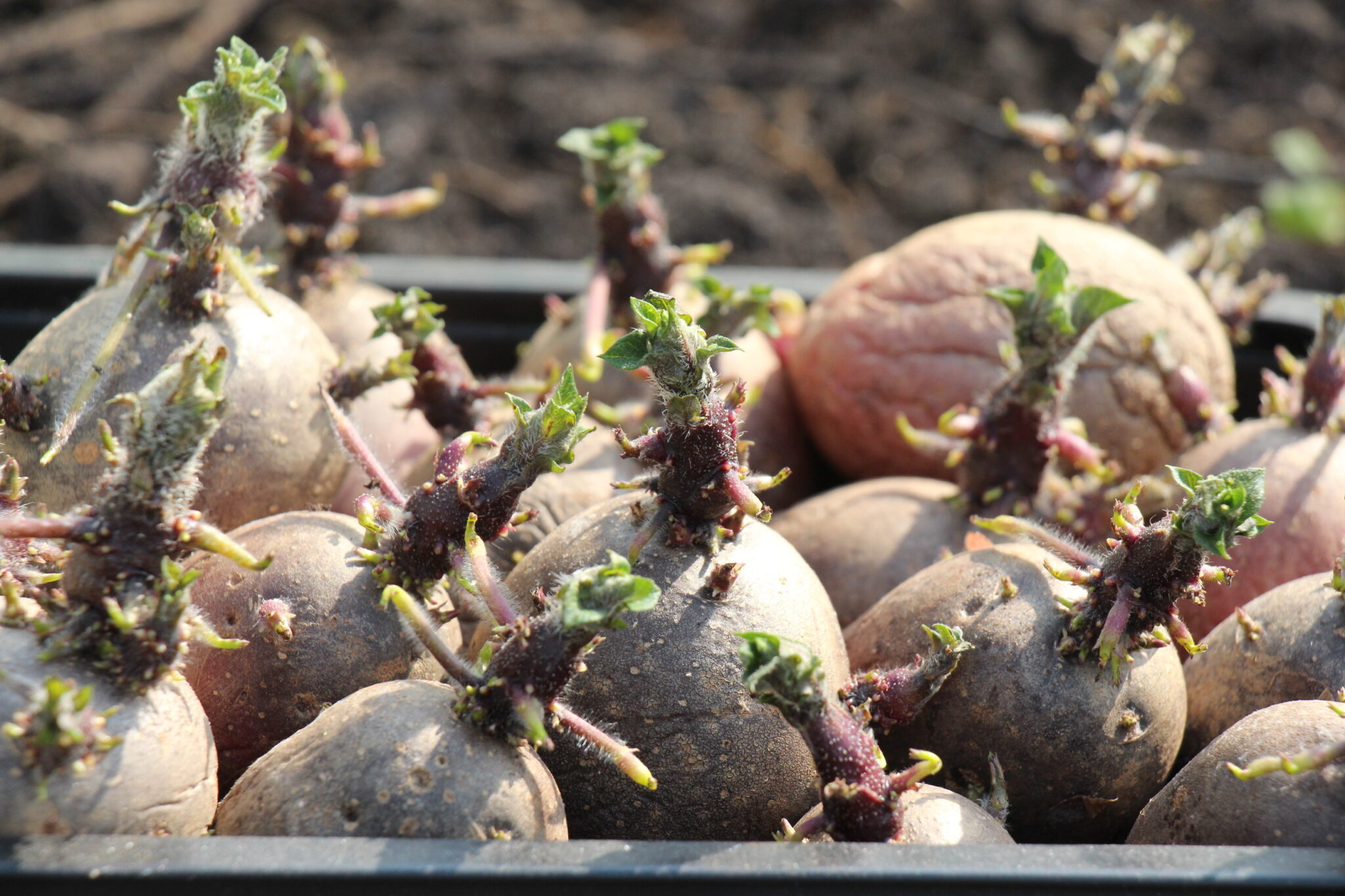 Alouette can be laid in July - Photo: Peter Norris
Primo:
Asparagus bed gets compost
Autumn potatoes are planted when there is room after, for example, harvesting peas and early potatoes. Mold-resistant varieties Alouette and Twister
Horseradish nakkes. In early July, the plants can be 'necked', which means that the root collar is exposed and pulled up a little, after which the strongest side roots under the top shoot are removed. This should be done after rain when the soil is moist. The result is a stronger rootstock because the plant is forced to absorb nutrients through the root roots. After such an intervention, which for a short period slows down the growth of the plant a little, the plant should be carefully hopped
Radicchio and Sugar Loaf were sown. Planted in manure bench after early carrots
Celery leaves get fertilizer water
Rod beans were sown in root trainers. Black Fasold. Planted after harvest of onions
Peas were sown in root trainers. Black Eddy or Terrain. Transplant after potato tops are removed while the tubers remain in the ground. Sown 3 times from about 10.7. at one-week intervals.
---
August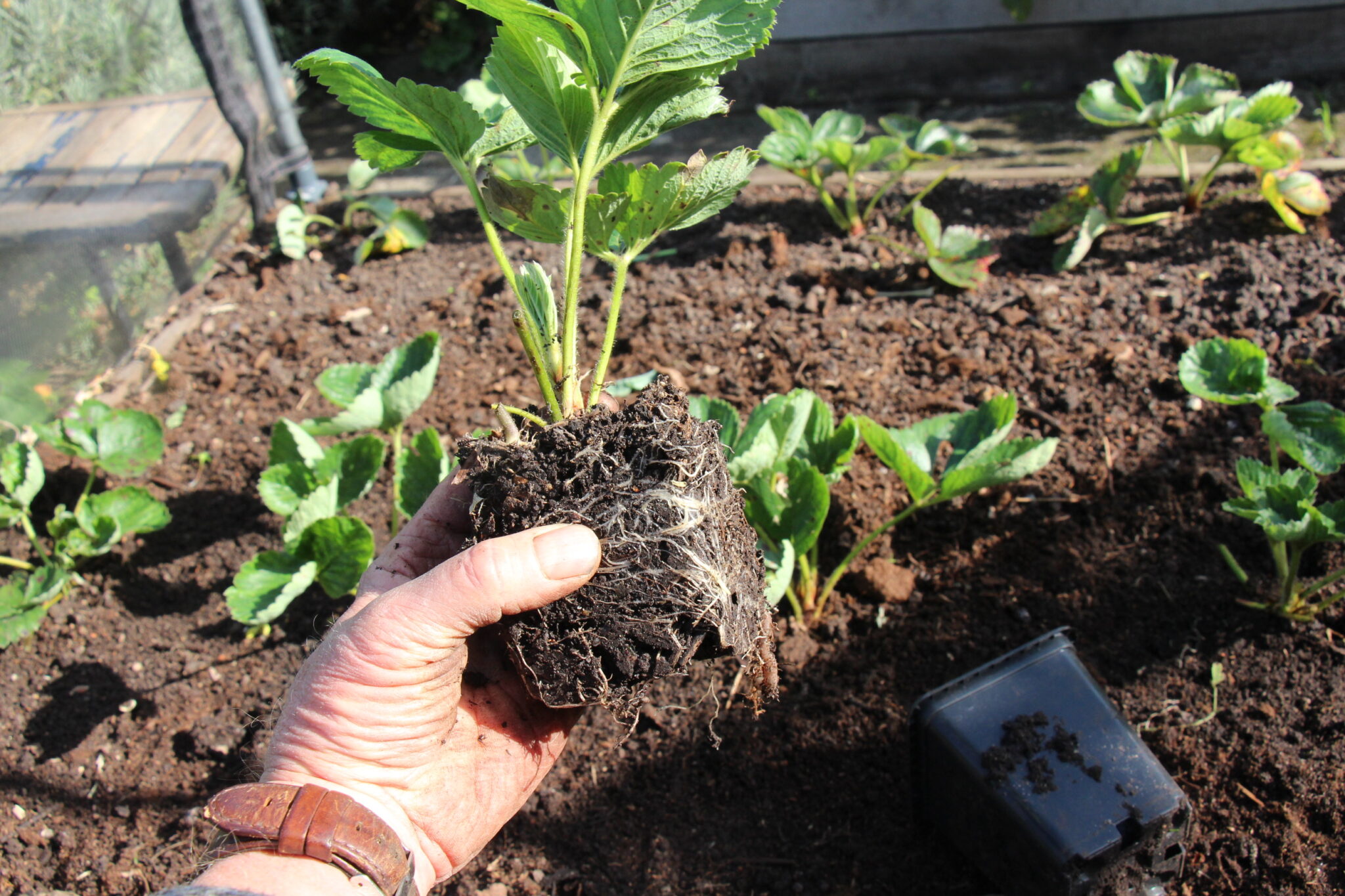 New strawberries are planted - Photo: Peter Norris
Primo:
Lettuce was sown for fall and winter. Black Winter Gem, seen August 10th
Spit bowl sauce. Black: April and Caraflex. Sown about August 10, transplanted into small pots, transplanted in manure bench October
Spinach is sown in the open, seeds germinate in the refrigerator if the soil temperature is too high. Sort Monnopa, Matador, Giant Winter
Chinese Radish was seen directly. Sort Red Meat
Medio:
Cauliflower sauce. Black Sapporo, planted after sprouting cauliflower in October, gives harvest April-May
Onions sown for overwintering. Sort: Senshyu Yellow, Sturon. Sown August 18th. Sown in plugbox / rootmaster, 3-4 seeds per cell.
Planted without thinning in late October
Plant strawberries. Preferably before 15 August.
Ultimo:
Broccoli was sown for the winter in the open air. Planted under cover October. Black Sibsey (suitable according to Dowding)
Spring onion Kaigaro was sown in rootmaster. Planted in a greenhouse in November
Mizuna was sown in pots. Sown about August 25th. Can be planted later in the greenhouse in November
---
September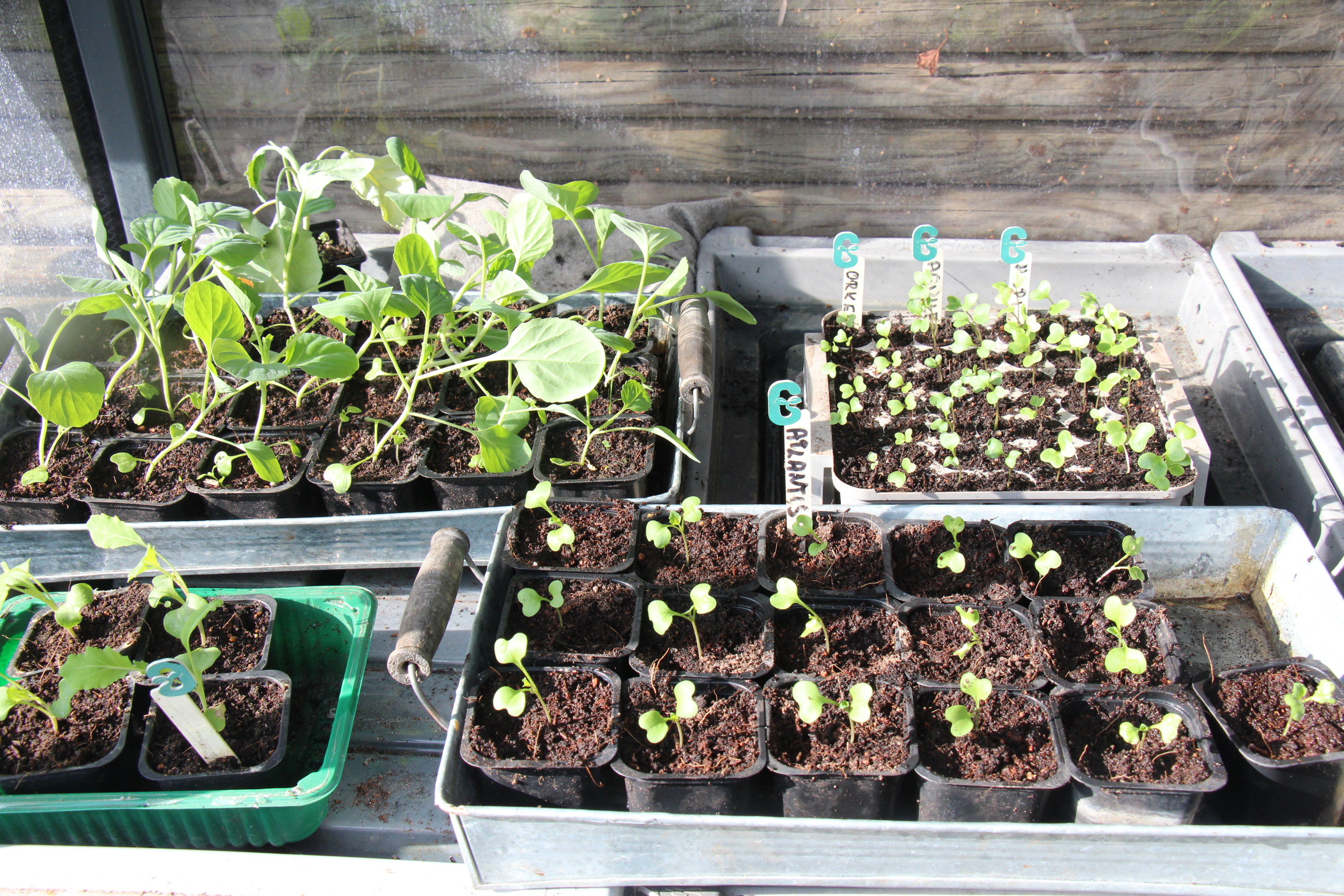 Atlantis broccolini in front, behind it are cauliflower, cauliflower and plain broccoli for overwintering - Photo: Peter Norris
Primo:
Overwintering cauliflower sown, black Orkney. Winters in greenhouses in small pots, planted under cover in March
Lettuce was sown for overwintering and harvesting during the winter. Winter Save for planting in a greenhouse.
Grenoble Red to covered open field after harvesting corn Spinach was sown for overwintering. Sown directly if there is free space, otherwise in the plug box for later planting in the middle bench and greenhouse. Black Monnopa, Giant Winter and Matador
Wild arugula sauce. Winters in pots in greenhouses, planted March-April
Yellow and discolored leaves are removed on celery to prevent celery leaf spot
Spring lettuce sown in plug box, transplanted October after late peas
Medio:
Leaves are broken by Brussels sprouts up to the top 10-15 cm
Spit bowl and broccoli were sown for overwintering. Broccoli varieties are Aquiles and Stromboli. Spit bowl is April and Caraflex
Pot of chives. Pots are placed later in the greenhouse and can be taken in during the winter
---
October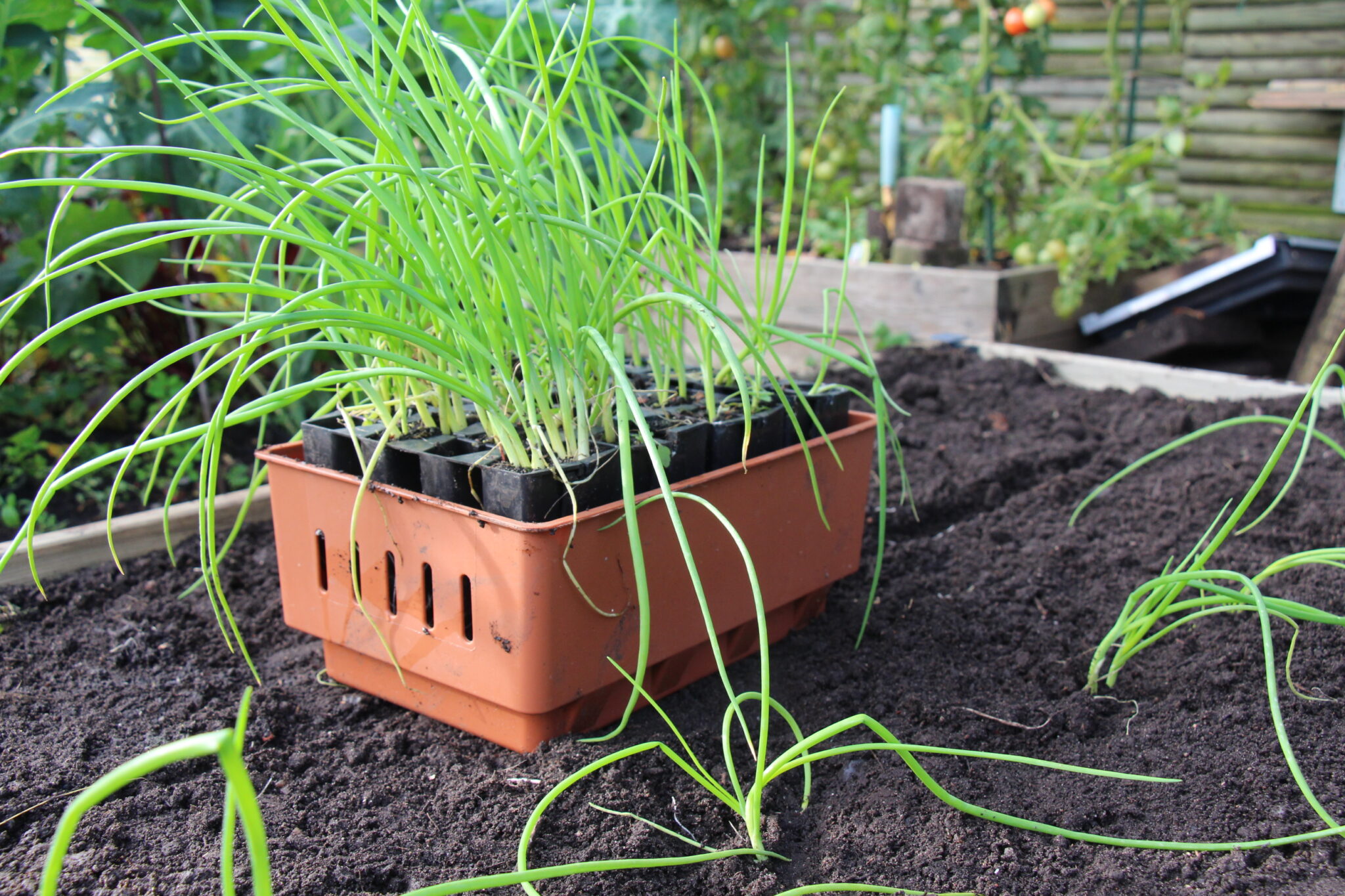 Overwintering onion Senshyu Yellow is planted out - Photo: Peter Norris
Overwintering bulbs are planted out during October when space is available
---
November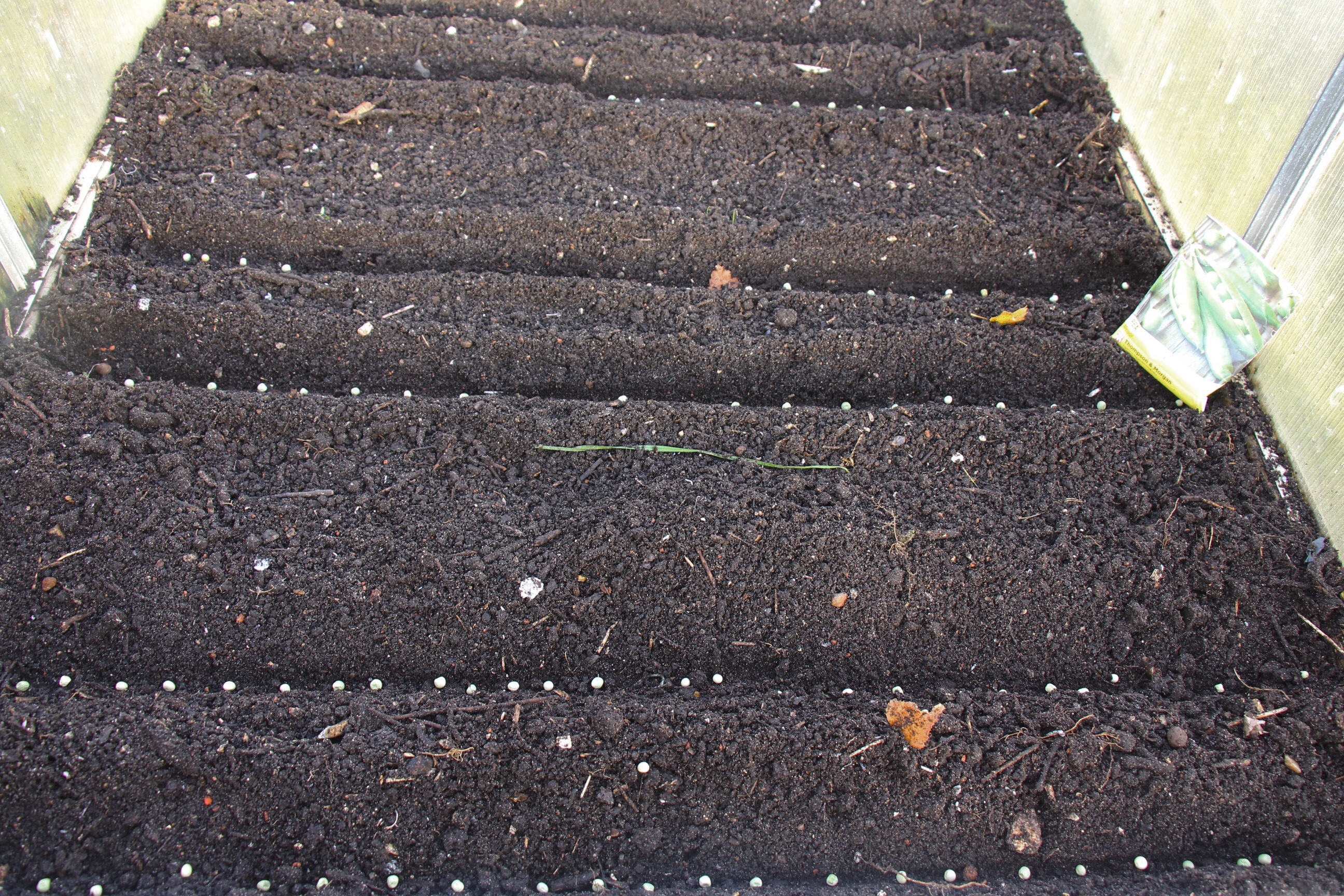 Peas were sown in a mist bench in November - Photo: Peter Norris
Primo:
Garlic is planted. The bed is kept watered for the first 3 weeks to promote root formation
Overwintering cabbage is checked. Repot into larger pots if the roots have reached the bottom and begin to fill the pot
Medio:
Overwintering peas were sown in manure pits. Sort Meteor
Horseradish is harvested. The root stalks are laid in soil protected from frost by dry straw or winter mat. The thickest rootstocks are used during the winter. The thin ones are laid next spring in April after side shoots and buds have been rubbed off. They are placed diagonally in a gutter with the end knob at the top 10 cm deep
Shallots are laid
Make sowing soil for use in sowing in the lip of winter and early spring. Store so that it can be taken into the heat
---
December
Overwintering carrot was sown in manure bank. Sown when soil temperature falls below 5 °. Black eg Amsterdam Forcing or other early black