Start with the easiest
Simply start by choosing some of the following crops: radishes, lettuce, spinach, peas, carrots, parsley, chives, leeks and onions - possibly potatoes. None of these plants require much heat and thrive best without plastic cover after the month of April.
When you have harvested e.g. radishes and spinach in early May, you can then e.g. beans that thrive best with a lot of heat. So in mid / late May or early June.
Tomatoes, cucumbers, chilies and peppers should be grown in a bed where there is plastic cover for most of the season (greenhouse climate). For those plants require LOTS of heat.
Most herbs thrive in the "cold bed". But basil should preferably stand where there is a greenhouse climate.
How should the plants stand in relation to each other?
Find out where North and South are. Do not place tall plants such as peas on the south side of the bed - they will shade the other plants. Put the peas on the north side or make the rows from north to south so that the sun can shine in on all the rows.
Garden encyclopedia
In our garden encyclopedia you will find all information about 45 different vegetables. See at what temperature they germinate, see planting distance and if and when, they should be covered with insect nets and plastic cover, respectively.
Schedule of sowing and harvesting times
Below you can see in schedule form when you can sow and harvest: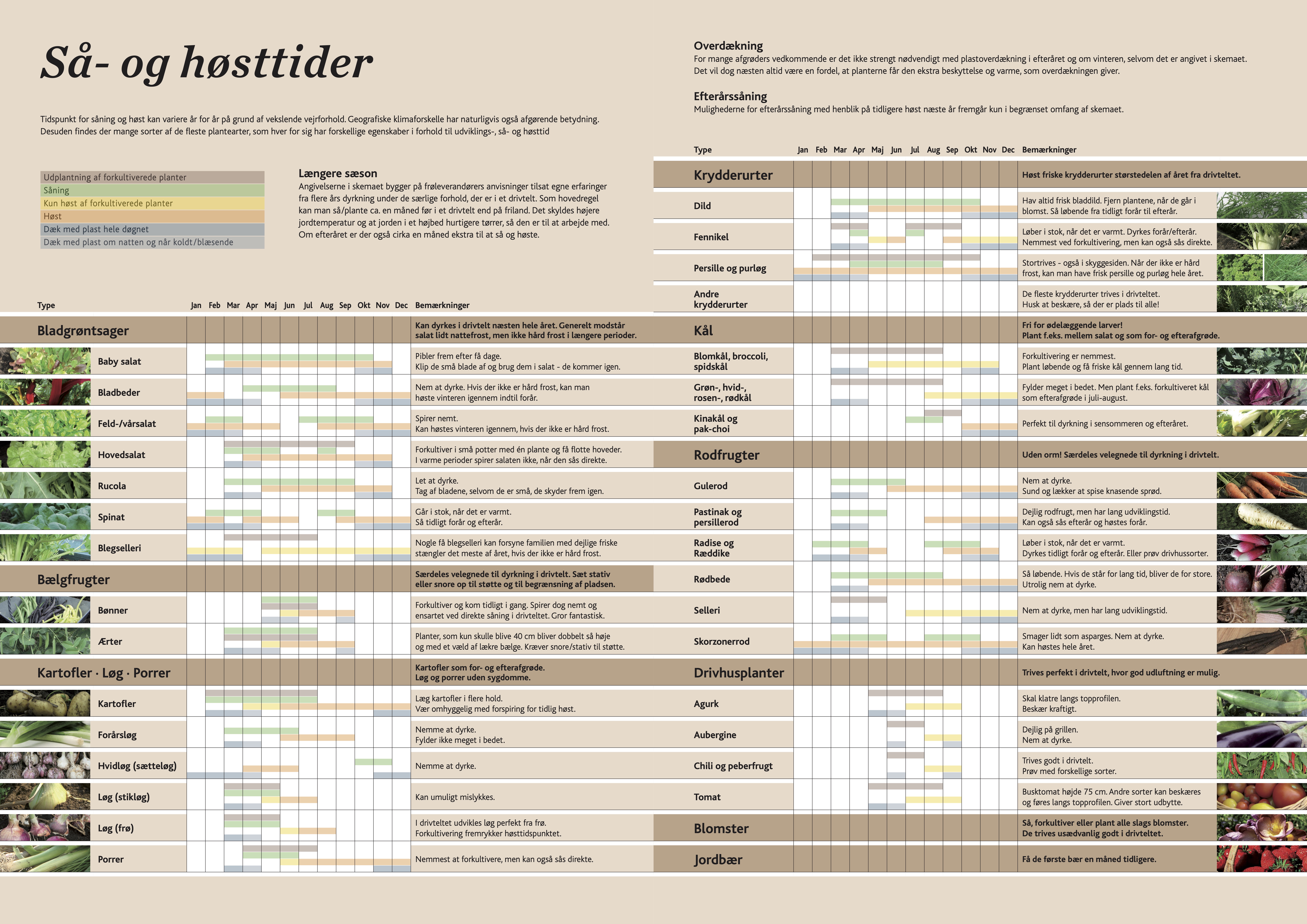 When
You can then earlier in a GrowCamp than you are used to. When the tent is covered with plastic, light night frost is kept out and the plants are not damaged.
Often it will be possible to start already in February. The sun's rays quickly heat up the bed and raise the soil temperature significantly.
At the other end of the season, there is also a lot to pick up. If you put potatoes in July, you can dig up new potatoes in October-November. Carrots sown in August can be eaten from November until spring.
Time of sowing and harvest may vary from year to year due to changing weather conditions. Of course, geographical climate differences are also crucial. In addition, there are many varieties of most plant species, each of which has different characteristics in relation to development, sowing and harvesting time.
Longer season
The information in the form is based on the seed suppliers' instructions with their own experience from several years of cultivation under the special conditions in a drift tent. As a general rule, you can sow / plant approx. a month before in a drift tent than in the open air. This is due to higher soil temperature and the fact that the soil in a raised bed dries faster, so it is workable. In the fall, there is also about an extra month to sow and harvest.
Covering
For many crops, plastic cover is not strictly necessary in autumn and winter, although this is indicated in the table.
However, it will almost always be an advantage for the plants to get the extra protection and warmth that the cover provides.
.
We have prepared a form, which shows general guidelines for what you, among other things. can grow in your GrowCamp, when it can be sown or planted, and when it can be harvested.
Inspiration for decorating beds of 120 x 120 cm
The example is divided into three times of the year: Click on the pictures below and see explanation:
Deciding what to sow and plant is almost the most difficult part of growing vegetables in a GrowCamp. There are so many options. Below are three schematic examples of interior design:
Greenhouse bed
Shrub tomatoes become approx. 75 cm in height but spreads a lot. The cucumber is placed on the side of the bed and tied up under the roof when it grows. Remove side shoots, part of the leaves and the top shoot when the plant becomes too large and shadows too much. Chili, pepper and eggplant thrive in bed.
Click on the image below and see further explanation: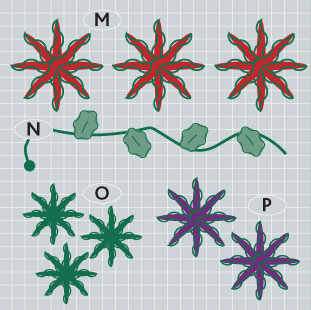 Herb bed
Chives, parsley and dill in rows. 8 different herbs, some of which require hard pruning so as not to take the place of the others. Basil and French tarragon thrive in the warm environment of the GrowCamp.
Click on the image below and see further explanation: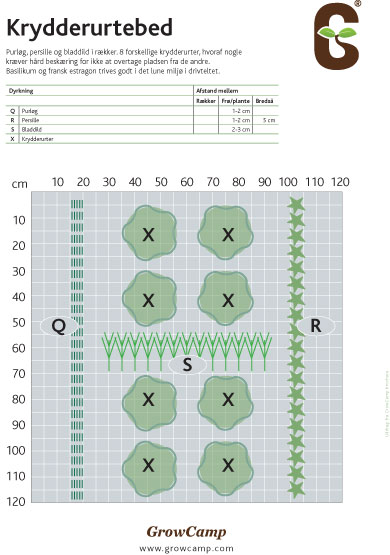 Limited only by imagination
Mix root vegetables, lettuce, leeks, onions and herbs. Harvest
and so enjoy.
Click on the image below and see further explanation: